Everyone deserves a smile they love and teeth that make them feel confident and attractive. At Healdsburg Dental Spa, we combine our cosmetic dentistry expertise with the latest techniques and materials to create celeb-worthy smiles for our patients. No matter what you dislike about your smile, there is always a dental solution that can transform it – and you – permanently. Cosmetic Patients:
Try our Free Video Consult
.
Cosmetic Dentistry Treatments from Your Healdsburg Dentist
Cosmetic dentistry treatments that are performed by an experienced, meticulous professional have the power to make a person look younger, happier, and healthier. Cosmetic dental work is both an art and a science, and one or multiple procedures can dramatically improve your teeth in a powerful and life-altering way.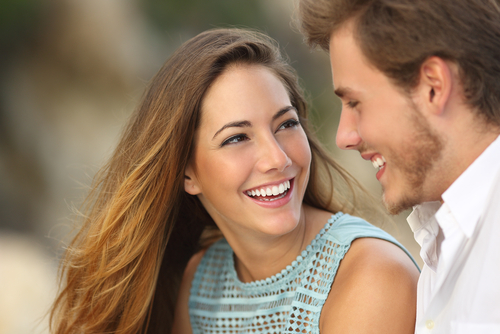 The only question is, which treatment is right for you? Here are the cosmetic dentistry treatments we offer at Healdsburg Dental Spa:
Professional Teeth Whitening: Teeth whitening remains one of the most popular choices for good reason – it's fast, effective, and affordable. A professional-grade bleaching solution is applied to carefully prepped teeth to remove surface and ground-in stains. Just one treatment can make teeth multiple shades whiter. Even if your teeth are a little crooked, gapped, or otherwise flawed, teeth whitening creates the illusion of perfection.
Porcelain Veneers: When teeth cannot be whitened, or when multiple aesthetic complaints need to be addressed, porcelain veneers conceal every issue in one procedure. Customized in size, shape, color, and length, veneers are bonded to the front surfaces of teeth to mask stains, gaps, chips, and more for a beautiful, natural-looking smile.
Tooth Bonding: Tooth bonding is a fast and minimally invasive solution that is done using tooth-colored composite material. This procedure covers up minor cosmetic defects or discoloration and is color-matched so the restored tooth is virtually indistinguishable from the adjacent teeth.
Porcelain Crowns: Porcelain crowns are both restorative and cosmetic. Often used to restore damaged or fractured teeth, or those that have undergone root canal therapy or have a very large filling, crowns are also an aesthetic solution that cover up misshapen or unsightly teeth that stand out from the rest of your smile.
Invisalign®: An alternative to traditional orthodontics, Invisalign® uses clear, transparent trays to move teeth into alignment so the treatment is not visible when you speak or smile. The aligners are not only discreet, they are removable, so you can continue to eat what you love and easily maintain optimal hygiene.
FASTBRACES®: An innovative teeth-straightening system, FASTBRACES® aligns teeth in about half the time of conventional braces while maintaining a low profile. Tooth-colored, patented, triangular braces straighten teeth roots and crowns simultaneously, saving time and investment for quick alignment and amazing results in as little as 120 days.
Are You a Good Candidate for Cosmetic Dentistry?
Cosmetic dentistry is safe, effective, and always customized to the patient to serve your needs best. Not every procedure is right for every patient, and it's important to work with a cosmetic dentist you trust and who has years of experience in creating personalized smile makeovers. If you are living with any of the following problems, it's time to find out what can be done to spruce up your smile:
Stains and discoloration
Oddly shaped teeth
Uneven teeth
Excessive gaps
Crowded teeth
Gummy smile
Fractured or chipped teeth
Worn teeth
Misalignment
Before any cosmetic upgrades can be undertaken, you will undergo a dental exam to ensure that your teeth and gums are healthy and strong so there is a solid foundation for your new smile.
Schedule your consultation
with Dr. Tam at Healdsburg Dental Spa in
Healdsburg, California
to find out whether you're a good candidate for cosmetic dentistry.