Are you worried about your teeth stains that are affecting your smile and appearance? Do you avoid smiling in public because you're afraid of showing of coffee, tea, or tobacco stained teeth? Then you are not alone. According to the American Dental Association, about 25% of Americans avoid smiling in public because of cosmetic tooth defects. The good news is that you can easily get rid of these stains and enjoy a naturally white smile – thanks to the professional teeth whitening at the Healdsburg Dental Spa.
What is Teeth Whitening?
Whitening is a cosmetic procedure in which Dr. Tam will remove adherent coffee, tea, or tobacco stains from your teeth. It is one of the most common methods of lightening tooth color and shade, where there is no need for removing natural tooth structure.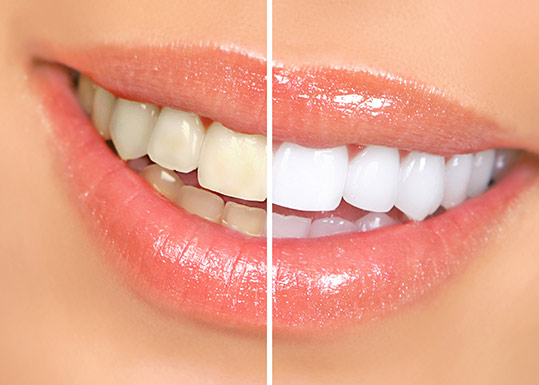 Who Can Benefit from Teeth Whitening?
If you have stained teeth, then you can benefit from teeth whitening. However, teeth whitening may not be effective in removing all kinds of teeth stains. For example, a professional whitening procedure can only remove external teeth stains – stains that develop on the outer surface of the teeth. Internal teeth need to be removed using special procedures.
At the Healdsburg Dental Spa, Dr. Tam recommends whitening for people who have the following cosmetic problems:
Tobacco stains
Tea stains
Coffee stains
Teeth stains caused due to intake of alcoholic beverages or fizzy drinks
People who have teeth with darker shades and would like to get whiter teeth.
How Professional Teeth Whitening Works?
Whitening works by a process called bleaching – the bleaching agent, which is usually carbamide peroxide, releases hydrogen peroxide that penetrates beneath the tooth surface and chemically dissolves the teeth stains.
What is the Process of Teeth Whitening?
Professional whitening is a simple process that can be completed under 30 minutes. Here are a few steps involved during teeth whitening at the Healdsburg Dental Spa:
Clinical Examination – during the consultation appointment, Dr. Tam will examine your teeth to ascertain the cause of staining, and to offer a solution that is best suited to your oral health needs.
Fabrication of Whitening Trays – in the next step, Dr. Tam will make impressions of your teeth, which we will send to the dental laboratory for preparing customized whitening trays.
The Whitening Procedure – at the next appointment, we will perform the whitening procedure. Dr. Tam will first apply cocoa butter or Vaseline on your gums and cheeks – to prevent them from accidental bleaching. Next, we will ask you to wear your whitening trays containing the bleaching liquid. The whitening formula will then be activated using a special light. After you have worn the whitening trays for 30-45 minutes, we will remove trays and wash your teeth. Once the whitening procedure has been completed, you will feel a remarkable reduction in the shade of your teeth.
In some cases, Dr. Tam may ask you to perform your whitening at home. We will give you the custom trays and mild whitening formula. For the best results, you should wear the whitening trays overnight for about 14 days. Don't worry; your whitening trays will not cause inconvenience or disturb your sleep.
That's it. You are now the proud owner of a dazzling white smile!
Does Whitening Hurt?
No, professional whitening is an absolutely safe procedure, provided a qualified and experienced dentist performs it. However, you may feel that your teeth have become slightly sensitive after the procedure – this is normal, and it will go away in a few days. If the sensitivity persists after a week, you should visit your dentist without delay.
Professional whitening is an excellent solution for getting rid of teeth stains. However, it should not be considered as an alternative to regular oral hygiene maintenance in the form of brushing and flossing. In fact, you can keep your teeth whiter for a longer time by ensuring proper dental care.
So, what are you waiting for? Visit us today and say goodbye to your teeth stains. A charming, pearly white is just one step away from you at the Healdsburg Dental Spa in Healdsburg, California.