At Healdsburg Dental Spa, we care for patients of all ages and in every stage of life. Whether you're getting teeth, beautifying teeth, straightening teeth, or repairing teeth, our family dentistry practice will help you achieve and maintain good oral health.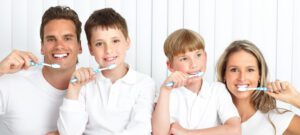 We Care for Patients of All Ages
Your oral health needs will change throughout your life. Our family dentistry office is proud to offer treatment and support to patients of every age:
Children: Kids have a lot going on in their mouths. We are honored to teach children the right way to brush and floss and the importance of good dental care while making them feel comfortable at the dentist. For kids, we offer teeth cleanings, dental exams, sealants, x-rays, tooth-colored fillings, and orthodontic evaluations.
Adults: We want to make sure our adult patients prioritize their oral health care, seeing the dentist regularly for cleanings and check-ups and getting help as soon as you need it. This is also the age bracket when you may want to upgrade your smile with cosmetic dentist, and we are happy to help you revamp your teeth.
Seniors: The older you get, the longer your teeth have been working, which means they are susceptible to age-related oral health problems, especially gum disease. Then there are side effects from illnesses and medications that can cause dental difficulties. Deteriorating teeth can be dealt with efficiently and effectively so you have a strong, attractive smile that feels good and works well.
Comprehensive Family Dentistry Services
We offer a comprehensive menu of family dentistry services at Healdsburg Dental Spa, including:
Preventive Dentistry: Taking care of your oral health is a daily task for you, and these efforts are most effective when combined with professional dental cleanings and exams every six months, as well as x-rays and oral cancer screenings.
Cosmetic Dentistry: When you are ready to beautify your teeth, cosmetic dentistry treatments like porcelain veneers, professional teeth whitening, cosmetic tooth bonding, Invisalign®, and porcelain crowns can be used to perfect your smile and make it flawless.
Restorative Dentistry: If you have a damaged tooth or have lost a tooth or teeth, restorative dentistry treatments like dental implants, dental bridges, dentures, root canal therapy, and porcelain crowns can give you back a complete, healthy smile that feels good, looks great, and functions properly.
Pediatric Dentistry: With so many teeth coming and going, children face their own unique oral health challenges. We are proud to treat this age group and give them positive associations with dental care while teaching them the importance of a healthy smile and how to take care of their teeth and gums.
FASTBRACES®: A revolutionary and affordable way to straighten teeth without a lengthy orthodontic treatment or big-budget smile makeover, FASTBRACES® is an innovative system that aligns teeth in about half the time of conventional dental braces. Low-profile, tooth-colored braces straighten roots and crowns at the same time, saving you both time and money.
Emergency Dentistry: If you are experiencing severe tooth pain, have suffered a blow to the mouth, have a damaged tooth, or have lost a tooth, always contact your Healdsburg family dentist to find out whether you need to be seen right away for emergency treatment.
Visit Your Healdsburg Family Dentistry Practice
Our Healdsburg dental office practices advanced safety and cleaning measures so our patients feel secure in our office. We are equipped with state-of-the-art equipment and offer our patients the most innovative dental treatments available so they can enjoy good oral health. It is our goal to help you establish and maintain healthy, strong teeth and gums for a lifetime, and we can help you achieve that through our comprehensive menu of services. Care is customized to your individual needs, no matter what age or stage of life you're in. You can expect gentle, compassionate gentle care from the entire team at Healdsburg Dental Spa in
Healdsburg
, California.
Contact
us today to schedule an appointment for yourself or a member of your family.