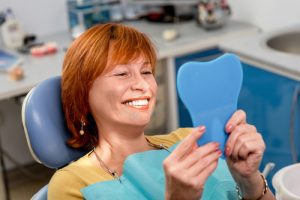 When you are missing an entire arch of teeth or multiple teeth in one area of your mouth, dentures are an excellent choice to replace them. The modern version of this dental restoration is reliable, natural-looking, and gives you a secure smile that improves your appearance, speech, and ability to eat confidently. Find out if dentures are the right restorative dentistry option for you with help from the experienced dental care team at Healdsburg Dental Spa in Healdsburg, CA.
Types of Modern Dentures
There are many possible causes of missing teeth, including gum disease, an accident, a blow to the mouth, a sports injury, advanced age, or infection. Whether teeth are extracted or knocked out, dentures do the important job of replacing the teeth as well as the supporting tissues. Below are the appliances available from your Healdsburg dentist include the following:
Full dentures: Full dentures are the dentures most people are familiar with – they replace an entire arch of teeth on the top of the mouth and require adhesive and suction to stay firmly in place. Full dentures must be removed daily for cleaning and they cover the palate, which does take time for the mouth muscles and tissues to adjust to. When done well, full dentures fit snugly and comfortably along the gum line so you can be confident about wearing them and they look natural.
Partial dentures: Removable partial dentures are designed to replace one or more missing teeth. Prosthetic teeth are attached to a gum-colored acrylic and metal framework snaps into place with clasps. This design eliminates the need for adhesives and also supporting remaining teeth so they are unable to drift into the spaces left by missing teeth.
Permanent dentures: Permanent dentures are an amazing development in tooth replacement procedures. Dental implants are carefully and strategically placed within the jawbone and a dental implant is permanently attached to it. This incredibly secure repair eliminates the need for adhesive and delivers a natural-looking, incredibly strong restoration that helps prevent bone loss and allows your teeth to look and function normally.
The Importance of Replacing Missing Teeth
Some people are so against the idea of dentures they would rather live without their teeth than deal with adhesives. This unfortunate choice comes with a host of negative side effects:
Expect to develop a sunken appearance, making you look older than you are.
Confidence and self-esteem will suffer because you are self-conscious about your missing teeth.
The holes in your smile will draw attention to your mouth in an unwanted way.
The jawbone will be unstimulated because of absent tooth roots, leading to bone deterioration.
It will be difficult to eat and your speech will be affected too.
These dramatic changes will take time to occur, but they are nearly impossible to avoid if you do not replace your missing teeth. While dentures may not be your top choice for tooth restoration, the modern version of this solution has been finessed to work seamlessly with modern lifestyles so you can enjoy all the benefits of a complete, attractive, and fully functional smile.
Get Dentures in Healdsburg, CA
Dentures are not one-size-fits-all. They are carefully customized in design and fit so they can complete your smile naturally and not stand out as an obvious restoration. Your teeth will be designed in the right color, size, and shape to complement your appearance. Both physically and mentally, they will be an advantage to your overall health and wellness. Are you a good candidate for dentures?
Schedule your consultation
with Healdsburg Dental Spa in
Healdsburg
to discuss all your tooth restoration options. There is at least one solution that will work well for you, and our experienced dentist Dr. Tam will help you find it.