Even if you take excellent care of your teeth, problems can arise. Aging, accidents, and infections can all happen, and they require repairs to correct them if you want your oral health to stay strong. The comprehensive menu of restorative dentistry treatments offered by Dr. Tam at Healdsburg Dental Spa in Healdsburg, CA, are designed to give you a healthy smile that looks great, feels good, and works properly.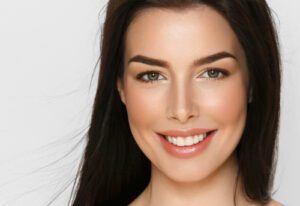 When it's time to replace a missing tooth, a dental bridge is a minimally invasive solution that fills the hole in your smile. A bridge is created between neighboring teeth using metal clasps and a prosthetic tooth is placed in the middle of the bridge to eliminate the space. The entire treatment is anchored in place with porcelain crowns. The result is a solution that looks natural and leaves you with a fully functional smile.
The most secure, long-lasting tooth restoration is a dental implant. This surgical procedure involves the implantation of a tooth root in the jawbone and, after this area has healed, the placement of a crown to complete the repair. Dental implants are designed to replace the entire tooth (or multiple teeth) and keep the jawbone stimulated, giving you a restoration that looks and works just like a natural tooth.
Modern dentures are an excellent way to replace an entire arch of teeth or just a section of teeth. This restoration is carefully customized to the patient so that the teeth do not look fake. While dentures are removable and require adhesive to stay in place, some dentures can be combined with dental implants for a truly secure solution.
Tooth-colored fillings are intended to repair teeth that have a cavity. After your dentist drills away the decay, the tooth is filled with the customized composite material. No one will ever know you had work done on that tooth. Tooth-colored fillings can also be used to make small cosmetic repairs to teeth and correct chips, cracks, open contacts, and gaps.
Root Canal Therapy
When you have a deep infection in a tooth, you will have severe pain. This is a problem that needs to be corrected right away. One of the most effective ways to treat such an infection is with root canal therapy. Though everyone groans at the thought of this treatment, it is powerful and it works, immediately eliminating the discomfort. Root canal therapy is often followed by a porcelain crown to cover the tooth and prevent further problems from developing.
Porcelain crowns are an incredibly versatile method of restorative dentistry. They are customized to the patient in size, shape, and color so that they can fit over a problem tooth including teeth that have a large cavity, are broken or damaged, are unsightly, small, or otherwise compromised. Crowns can be placed on just about any tooth as long as your dentist considers this the best restoration for your dental problem.
Tooth extractions are a last resort for all dentists. They will do everything possible to correct your dental problem first before resorting to extraction. There are times, however, when pulling the tooth is the only solution. If this procedure needs to be done, it will be done painlessly, and the tooth can always be replaced after the area has been healed.
Get Restorative Dentistry in Healdsburg
If you have a problem tooth, mouth pain, or are unhappy with the current appearance or functionality of your smile, schedule a consultation with Dr. Tam at Healdsburg Dental Spa in Healdsburg, CA. There is a dental restoration for everyone, no matter what you have going on in your mouth.