Are you looking for a reliable and aesthetically pleasant option for replacing your missing natural teeth in Healdsburg? Then dental implants should be your first choice. Dental implants have become the preferred option for tooth replacement today. According
to The American Academy of Implant Dentistry
, about 3 million US citizens have dental implants and each year, this number grows by 500,000.
What is a Dental Implant?
An implant is a screw-shaped, metallic fixture that your dentist will insert into the jawbone, and it will serve as a replacement root for your missing tooth. With time, the implant becomes fused with the surrounding bone and provides a firm foundation for attaching the artificial teeth that will restore your smile, and ability to eat and speak without difficulty.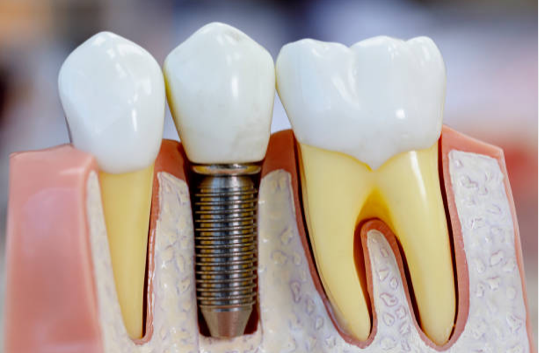 Who Can Benefit from Dental Implants?
All individuals who have no underlying chronic medical or dental problems, and have one or more missing natural teeth, are candidates for getting implants. At the Healdsburg Dental Spa, we recommend dental implants in the following cases:
Single Missing Tooth – if you have a single missing tooth, then we replace it with a ceramic crown that is supported by an implant. According to The American College of Prosthodontic (ACP), single tooth replacement with an implant-supported crown is the most commonly performed restorative procedure by dentists.
Multiple Missing Teeth – you don't need an implant for each missing tooth; a single can support up to two or three missing teeth. If you have more than one missing teeth, then we will prepare a removable denture or a fixed partial bridge for you that is supported by one or more implants.
Missing All Teeth in a Jaw – conventionally, dentists use removable complete dentures for replacing all teeth in a jaw. However, many patients are not satisfied with the fit, esthetics, and the chewing efficiency of the dentures. If you are seeking a permanent replacement option for your teeth, then we will give you a complete fixed bridge that will be supported by four, six, or eight implants in each jaw. Such appliances are known as all-on-four, six, or eight implant-supported dentures.
What is the Process of Getting Implants?
Replacing your missing teeth with implants requires careful evaluation and planning. At Healdsburg Dental Spa, the process of getting your teeth replaced with implants involves the following steps:
Clinical Examination and Treatment Planning – When you visit us for a consultation regarding dental implants, Dr. Tam will perform a detailed clinical examination of your teeth, gums, and jawbones. She will also look at the x-ray images and study models of your teeth to prepare a treatment plan that is customized according to your dental needs. Some patients may require additional procedures, such as bone grafting or sinus lift before implant placement can be initiated.
Implant Insertion – during your next appointment, we will place the implant. Since this is a surgical procedure, Dr. Tam will administer local anesthesia to ensure that you remain comfortable and pain-free during the procedure. We will make an incision over the soft tissues and expose the underlying bone where the implant has to be inserted. We will drill a hole in the bone and then carefully screw-in the implant into the desired position while using a prefabricated surgical template.Once the implant has been inserted, we will place a healing collar on it to make sure that the healing of the surgical site takes place without any disturbance. Dr. Tam will also place a temporary restoration on the implant to restore your facial esthetics while healing is taking place, and while we prepare the definitive prosthesis. During the healing phase, if you feel any pain or swelling at the surgical site, or you have any other dental emergency, you should visit us immediately.
Implant Loading – during the next appointment, we will assess the extent of healing of the surgical site. This normally takes about 4-6 months, when the implant has become completely fused with the surrounding bone. If everything goes well, Dr. Tam will replace your temporary prosthesis with the definitive one. In a few cases, Dr. Tam may choose to attach the false teeth immediately after implant placement, a process known as immediate implant loading.
What are the Benefits of Implants Over Other Tooth Replacement Options?
So, why are dental implants so popular nowadays? This is because they offer so many advantages over other tooth replacement options. These include:
Durability and Reliability – with proper care, dental implants can last for a lifetime.
Natural Esthetics – by far, dental implants offer the best esthetics and cosmetic results among all forms of tooth replacement.
Superior Functionality – in comparison to other tooth replacement options like dentures and bridges, dental implants restore your ability to eat all your favorite foods without any difficulty.
Improved Speech – no more speech problems with dental implants. Unlike removable dentures, the implant-supported teeth remain fixed to the implant and do not create any hindrance while you speak.
Safety – dental implants are made from Titanium alloys that are regarded as one of the safest materials for use inside the human body. Also, dental implants have a 10-year success rate of more than 95%.
Bone Preservation – dental implants are the only tooth replacement option that preserve the underlying jaw bone.
Dental implants look, function, and feel just like natural teeth. So, say goodbye to your old dentures and welcome an era of comfort and convenience.
Book an appointment with Dr. Tam today
and take your first step towards a confident and beautiful smile with dental implants.