FASTBRACES® Dental Braces
When you want straight teeth without a drawn-out orthodontic treatment or big-budget cosmetic dentistry makeover, it's time to find out whether you are a good candidate for FASTBRACES®
Dental Braces. This revolutionary and affordable alternative to conventional dental braces is an efficient way to transform your smile with the help of the experts at Healdsburg Dental Spa.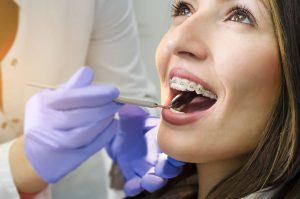 How FASTBRACES® Work
The innovative technology behind FASTBRACES® Dental Braces involves a high-performing bracket system that moves every crooked, tilted, or overlapped tooth upright and into alignment. Patients who want a convenient, fast way to straighten their smile are interested in the effectiveness of FASTBRACES® Dental Braces. This is how it works:
Patented triangular-shaped brackets: Most braces use square brackets, but the triangular shape of FASTBRACES® is intentional – this unique configuration alters the force-flexibility of the braces and works in conjunction with a super-elastic nickel-titanium wire.
Heat power: Movement of the teeth is expedited with the help of the natural temperature of the mouth.
Simultaneous alignment: The FASTBRACES® bracket-and-wire combination corrects each tooth root from the start of treatment, rather than moving the root and crown of each tooth separately like conventional braces do.
Speed: FASTBRACES® take about 3 months to 1 year to complete. Conventional braces take one-and-a-half to three years to complete. The length of treatment time depends on the severity of a patient's unique alignment at the start of treatment and how dramatically teeth and bite must be shifted.
Alignment Problems FASTBRACES® Fix
FASTBRACES® aren't only for a select few. This innovative treatment can correct almost every alignment problem that conventional braces are able to treat, including:
Crooked teeth
Gaps
Underbite
Overbite
Crossbite
Crowding
Open bite
Why Healdsburg Dental Patients Love FASTBRACES®
There is no getting around the reality that FASTBRACES® are still braces. You will have hardware on your teeth, and there will be some pressure and discomfort as the wires and brackets do their important work. However, FASTBRACES® outperform traditional braces in so many ways that living with this orthodontic innovation is far more tolerable, especially for busy adults.
Comfortable: The FASTBRACES® technology reduces sliding friction, which means teeth are moved more gently, reducing and minimizing the pain that comes from shifting tooth roots and crowns simultaneously.
Subtle: No one wants a metal mouth, understandably. FASTBRACES® brackets come in tooth-colored ceramic so they blend in with tooth enamel and are discreet.
Affordable: An orthodontic treatment that takes less time and requires less material and effort means a dramatically reduced overall cost too.
Easier to care for teeth: Wearing braces does require that you put in a little more effort when brushing and flossing every day. However, since the FASTBRACES® treatment is so much speedier than regular braces, that means less time that your usual oral hygiene routine is interrupted and less likelihood of developing decay or other oral health problems during treatment.
Reduced retainer wear: No matter who you are, no matter what kind of braces you get, you will have to wear a retainer afterward. In many cases, though, FASTBRACES® patients may have reduced daily wear times.
Are Healdsburg FASTBRACES® Right for You?
If you love the idea of FASTBRACES®, if you love the thought of avoiding multiple years of conventional metal braces, it's time to find out if you're a good candidate for this innovative orthodontic treatment. This clear bracket-and-wire solution is changing how orthodontics happen for both adults and teens, creating satisfied patients and beautiful, healthy smiles.
Schedule a consultation
with Dr. Tam and her dental team at Healdsburg Dental Spa in
Healdsburg, CA
, to learn more about