Fast, minimally invasive, and long-lasting, tooth bonding is a cosmetic dentistry treatment that can quickly repair damaged teeth and beautify your smile. Dr. Tam and her team at Healdsburg Dental Spa in Healdsburg, CA, offer this versatile procedure to deliver a secure and speedy dental repair for damaged or unsightly teeth.
What Is Tooth Bonding?
Whether you call it cosmetic bonding or dental bonding, the tooth bonding procedure uses tooth-colored composite resin to conceal minor cosmetic defects. The bonding is color-matched to your natural enamel, so the treated tooth is indistinguishable from neighboring teeth.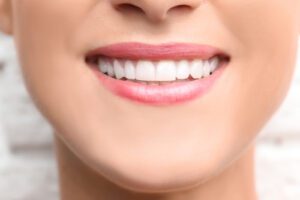 It usually takes only one visit to your Healdsburg dentist to complete the bonding procedure, with each affected tooth taking about 30 minutes to address. As a dental solution, bonding is less invasive, more affordable, and less time-consuming than a dental crown, tooth-colored filling, or porcelain veneer, and the solution can last just as long as any of those options.
Problems Fixed by Tooth Bonding
This type of dental bonding is done quickly and usually without the need for any anesthesia. This repair is strong and robust and can last for decades if you take good care of your teeth and visit your dentist regularly for checkups and teeth cleanings. Bonding can be used to repair multiple dental problems and unsightly cosmetic issues, including:
Broken teeth
Cracks
Discoloration
Gaps
Misalignment
Misshapen teeth
Stains
Tooth decay
From a stained or small front tooth to a cracked molar, the unsightly that interferes with what you know could be a great smile is easily repaired with bonding material.
How Tooth Bonding Works
The tooth bonding procedure is one of the simplest cosmetic dentistry treatments but is certainly no less powerful. The goal of this non-invasive procedure is to keep tooth structure intact and otherwise reinforce it, thereby eliminating any need for anesthesia or drilling. There is only one exception – if you are having tooth decay repaired with bonding, a local anesthetic may be needed for comfort while the cavity is removed. This is generally how the cosmetic bonding procedure works:
Prep: The tooth is lightly roughened then coated with conditioning liquid.
Application: The tooth-colored resin – matched to your tooth enamel – is painted over the surface of the tooth for as many coats as needed.
Shaping: Bonding material is sculpted and shaped so it looks like a natural tooth, blends in with the teeth nearby, fills in any gaps, and ends up being the proper size.
Curing: The bonding material is hardened in place with a laser or ultraviolet light.
Completion: Once the procedure is finished, the final step is to polish the tooth so it is smooth and looks natural.
Are You a Good Candidate for Dental Bonding?
Whether you have an acute dental problem or a cosmetic complaint that has been irritating you for years, bonding could be the solution. You won't know for certain until you consult with your Healdsburg cosmetic dentist and find out what's possible for your unique oral health. You will undergo a dental exam and discuss your concerns and questions before receiving recommendations to repair your smile. Even if bonding isn't the right solution, trust your dentist's advice and have faith that there is always a way to repair the dental problem that gets in the way of your perfect smile.
Get Cosmetic Dental Bonding from Your Healdsburg Dentist
Dental bonding is a heavy hitter even though it's a minor procedure. Your dentist can quickly reshape, resize, and repair problematic teeth, giving you back your confidence and delivering a stunning, flawless smile.
Schedule
an appointment at Healdsburg Dental Spa in
Healdsburg, CA
to find out if your concern can be fixed with dental bonding.