Injuries follow no schedule or timeline – they can occur anywhere, anytime. While some dental injuries heal by themselves, others need immediate care. All such injuries constitute dental emergencies. If you feel that you or one of your loved ones is having a dental emergency, you should visit us immediately at the Healdsburg Dental Spa for treatment, as some emergencies may prove to be life-threatening if not treated timely.
What Situations Constitute a Dental Emergency?
Any injury or situation that, if not treated timely, can cause serious damage to your oral or physical health, or is life-threatening, is considered as a dental emergency. These situations include, but are not limited to:
Spontaneous toothache
Uncontrolled bleeding
Injury to the jaws or jaw joints
Knocked out/fractured tooth
Dislodged filling or prosthesis
Loose orthodontic wire
Dislodged orthodontic bracket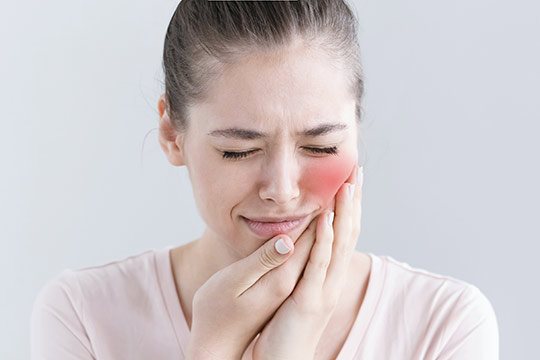 It is not possible to provide a complete list of dental emergency situations. It is a dentist or a healthcare provider who can assess the situation and determine whether you require urgent treatment. If you are not sure, we recommend that you contact us, or a
nearby dentist
immediately for expert advice.
What to Do When you have an Emergency Situation?
If you think you have a dental emergency, the first thing you should do is to keep calm and not panic. Next, try to identify the site of the injury or damage, and call us immediately to set up an emergency appointment.
Different Types of Dental Emergencies and How to Manage Them
Dental emergencies sometimes occur at odd times or places, where it may not possible for you to see a dentist immediately. Therefore, it is best that you learn about different dental emergencies and how you can manage them.
Spontaneous, Uncontrolled Bleeding If you have a bleeding around inside the oral cavity, you must compress it with a clean cloth – to stop bleeding and prevent blood loss. In case you have a severe injury, and the bleeding is not stopping, then you should visit us, or any other nearby dental office immediately for treatment.
Spontaneous, Uncontrolled Pain If you are having a toothache that does not go away after taking painkillers, then this situation constitutes an emergency. Spontaneous pain can occur because of a variety of reasons; fractured tooth, periodontal inflammation, or something stuck between the teeth. Another common reason for having spontaneous may be due to the exposure of the underlying nervous pulp tissue of a tooth. In any case, any situation where there is uncontrolled pain, must not be taken lightly. Call us immediately to book an emergency appointment with Dr. Tam.
Knocked-out Tooth In many cases, knocked out teeth can be re-inserted back to their position – therefore, you should secure the lost tooth. Wash the avulsed tooth while holding it by the crown, taking care not to touch the root. Try to gently insert the tooth back into its socket. If that is not possible, then you should store it in a container filled with milk. Alternatively, you can also keep the tooth inside your cheek – the saliva will bathe it and prevent the cells that will help in the re-attachment of the tooth, from dehydration. Once you have secured the tooth, call us immediately to book an appointment. The chances of successful re-implantation of avulsed teeth are higher when it is done in the first few hours of the incident.
Fractured or Cracked Tooth If you have a fractured tooth, try to secure the lost tooth so that you may not inhale it accidentally. Rinse your mouth with warm water to clean the area. Next, apply a cold compress over the area of the damaged tooth to prevent swelling and inflammation. When you have a fractured tooth, try to see a dentist as soon as possible as the sharp edges from the broken tooth can cause further injuries to your cheeks or lips. When you arrive at our office, we will take an x-ray of the fractured or cracked tooth. Depending on the extent of the damage, Dr. Tam will restore the tooth with composite bonding, veneers, or crowns. A root canal treatment may also be required if the underlying pulp tissues become exposed.
Dislodged Fillings or Prosthesis Dislodged fillings must be replaced immediately, especially if they result in the exposure of the underlying pulp tissue. If your crown or bridge has become dislodged, then you should secure it and bring it with you when you visit us. Dr. Tam will try to bond the prosthesis back into position – if that is not possible, then she will prepare a new prosthesis for you.
Dislodged Bracket or Orthodontic Wire A dislodged orthodontic wire will not only affect your orthodontic treatment, but its loose end can also injure your soft tissues. As a temporary measure, secure the wire by placing utility wax or chewing gum over the loose end. In case of a dislodged bracket, secure it and bring it with you when you visit us.
For managing dental injuries, Dr. Tam also recommends that you keep a first aid kit at your house, office, or in your car, which should at least comprise of:
Contact information of your dentist or healthcare provider
A clean gauze or handkerchief
An antiseptic solution
A lidded container to store a knocked-out tooth or dislodged bracket
Painkillers
Like all injuries, dental injuries must not be taken lightly. The most effective strategy against dental injuries is prevention. If you are involved in contact sports or athletics, you must wear a mouthguard to protect your teeth and other dental structures from injury. Most importantly, you should not waste time in seeking help if you feel that you have a dental emergency. Remember, you should look after your oral health, just like your overall physical health. At the Healdsburg Dental Spa in
Healdsburg, CA
, we are there to look after your general, cosmetic, and emergency dental needs. Just
book a same-day appointment
with us and let us take care of the rest.