Dental emergencies can be frightening and painful. When you are dealing with severe damage or pain, you need help right away. Healdsburg Dental Spa in Healdsburg, CA, is a same-day dentist that offers emergency dental care to both new and existing patients. If you are experiencing a dental emergency, contact us immediately at (707) 433-0210.
Do You Have a True Dental Emergency?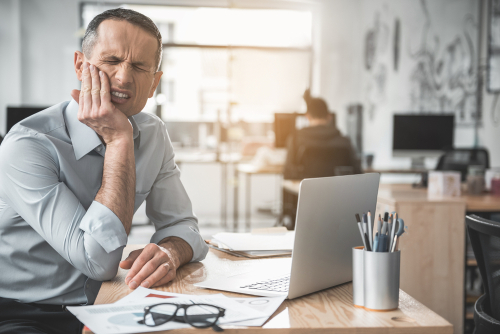 True dental emergencies may not happen at a convenient time, but treatment cannot wait if you want to save your oral health and avoid developing further complications. It helps to know you have a same-day dentist available to help.
How do you know if you have a true dental emergency? Any of the following circumstances qualify:
Bleeding gums
Broken tooth
Chipped tooth
Cracked tooth
Damaged dental work
Dislodged tooth
Jaw injury
Knocked-out tooth
Lost filling or crown
Mouth trauma
Severe tooth pain
If you're not sure your dental problem qualifies as an emergency, always be cautious and call your same-day dentist for a diagnosis and recommendation about whether you need to be seen right away. True emergencies don't go away on their own and they don't wait until your next dental visit or a more convenient time.
Minimize Panic About Dental Emergencies
Dental emergencies can be small or large, complex or simple. Every patient will have a different set of circumstances that need to be addressed. It is always important to call your same-day dentist to discuss what you're going through to get the proper treatment. In the meantime, keep the following in mind to help keep panic at bay:
Teeth can be saved: A dislodged or knocked-out tooth is a big deal and you need emergency dental care, stat, but all is not lost. When you see your same-day dentist right away, it's possible that the tooth can be saved.
Blood isn't always bad: The mouth is full of many miniscule blood vessels and capillaries and they bleed a lot, even in the smallest injury. A lot of blood doesn't always mean disaster.
Pain is a warning sign: Your teeth may look just fine and you may not see an obvious dental problem, but if you have pain that isn't going away, something is wrong under the gumline. This problem will only get worse without treatment. Call your dentist immediately.
Admit that you have a dental emergency: No one wants a dental problem, especially not in the middle of the workday or a family vacation. But if you don't make time to deal with the problem right away, it will only get bigger and eventually be debilitating.
Emergency Dental Treatments from your Same-Day Dentist
Some of the most common emergency dental treatments include the following:
Root canal therapy: Hidden infections that make themselves known often require root canal therapy to clean away the infection deep in the tooth. This procedure saves a tooth from extraction and stops pain.
Tooth extraction: This is always a last resort – your dentist wants you to keep your natural teeth. But if another repair is not possible and the damage is too great, the tooth will be extracted to stop the pain.
Tooth-colored filling: Damage and decay can often be fixed quickly and easily with a tooth-colored filling.Dealing with a cavity at its start can avoid bigger, more invasive dental restorations later.
Other repairs may follow these solutions like dental crowns or cosmetic fixes but, at your same-day dentist, these procedures are most likely to occur during an emergency dental appointment.
See Your Same-Day Dentist in Healdsburg, CA
If you have any sort of dental emergency, reach out to Healdsburg Dental Spa in Healdsburg, CA to make a same-day dentist appointment. We want to help you maintain your oral health, and that means being available when you need us. Call (707) 433-0210 right away.