Porcelain crowns are versatile dental restorations that can work independently to improve oral health or in tandem with other restorative dentistry solutions to make them stronger and secure. At Healdsburg Dental Spa in Healdsburg, CA, we use porcelain crowns to repair damaged or blemished teeth, anchor porcelain bridges, and transform unsightly teeth into beautiful smiles.
Fix Damaged Teeth with Porcelain Crowns
If a tooth is damaged by infection or injury, it needs to be treated and then built back up again to its normal form so it can function properly. Porcelain crowns, also known as caps, are one of the best ways to restore a tooth. A crown simultaneously repairs a tooth while making it look natural and blend into the rest of your smile.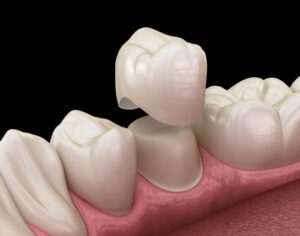 There are many situations that call for a crown, including:
Infected tooth: If your tooth is so deeply infected that it requires root canal therapy, after this procedure is complete the tooth will need to be covered up. A porcelain crown does just that and protects the tooth from further damage.
Fractured tooth: A compromised tooth that goes without treatment is susceptible breaking even more and putting neighboring teeth at risk too. A crown covers chips, breaks, and cracks, making the tooth whole again and saving it from infection and additional breakage.
Tooth decay: If you have a cavity and the area of decay is so large that a great part of the tooth must be drilled away, there will not be enough tooth enamel to support a tooth-colored filling. The best way to restore the tooth to full function is with a porcelain crown.
Weak tooth: Some teeth are weak because of past damage, worn down enamel, age, or genetics. A crown strengthens the tooth it is placed upon and saves it from breaks, cracks, and decay.
Choose Porcelain Crowns to Transform an Unsightly Smile
One of the great things about porcelain crowns is that they not only restore teeth, they also work as a cosmetic dentistry solution. There may not be anything wrong with your oral health, per se, but if you have an unsightly tooth that's marring your smile, a crown can conceal the problem and give you an amazing smile makeover. Your Healdsburg dentist may recommend a crown if you have any of the following cosmetic problems:
Discoloration: When you have a stained or discolored tooth that won't respond to professional teeth whitening, a porcelain crown can cover up that tooth and make it blend in with the rest of your teeth.
Oddly shaped tooth: A misshapen tooth can be a fun quirk that you embrace, or it can be a never-ending blemish on your smile that you want to make disappear. A crown can be customized to conceal the unattractiveness of a tooth.
Missing teeth: A porcelain crown can't work on its own to replace a missing tooth, but it can be used in conjunction with a dental bridge or a dental implants to fill holes in your smile. Crowns anchor a dental bridge in place or attach to a dental implant to eliminate all the spaces.
Get a Porcelain Crown in Healdsburg, CA
All crowns are made of super-strong porcelain and customized in shape, size, color, and form so they blend in with your entire smile and match your other teeth. Crowns rest on the visible portion of a natural tooth and fit snugly in place just at the gum line. When you undergo a dental restoration like a crown, your smile will stand out because it looks beautiful and natural, not unsightly or compromised. Dr. Tam at Healdsburg Dental Spa, in
Healdsburg, California
, creates porcelain crowns that look like they belong in your smile.
Contact
our office to schedule your consultation and the dental restoration or cosmetic upgrade you need.