A dental bridge is a secure, long-lasting dental restoration that replaces one or two missing teeth in the same area of the mouth. Permanent, affordable, and minimally invasive, this solution fills the gap created by missing teeth so your smile can look and feel natural again. Dental bridges are available from the experienced dental team at Healdsburg Dental Spa.
How Dental Bridges Work
Dental bridges are aptly named because they bridge the space between two teeth, filling in the holes left by a missing tooth or teeth. If your Healdsburg dentist determines that a dental bridge is the right repair for you, here is what you can expect from the restoration: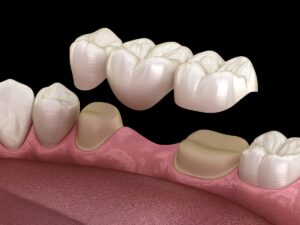 Prep: The permanent teeth on either side of your missing tooth are shaped to make room for the bridge and all its components. This involves removing a thin layer of enamel. These teeth must be strong and healthy so they can serve as a stable support for the bridge.
Restoration: The bridge is designed to support a false tooth and it is customized so the restoration matches your natural teeth in size, shape, and color. An impression of your teeth must be made so it can be sent to the dental lab for the creation of the fabrication. Bridges can be made of porcelain fused to ceramic or porcelain fused to metal – this decision will depend on your preferences, budget, and your dentist's recommendations.
Bonding: Clasps are often used to secure the bridge to the teeth on either side of the hole in your smile and bonded in place with adhesive cement. The restoration is then anchored in place with customized porcelain crowns for a secure repair.
Benefits of a Dental Bridge
Permanent restorations like dental bridges deliver confidence and security – you never have to worry about something shifting out of place or breaking down on you at an important moment. Here are just some of the benefits of a dental bridge:
Fixed in place
Prevent teeth from shifting out of place
Minimize wear and tear on remaining teeth
Complete your smile
Make it easy to chew and speak
Restore your confidence
Are You a Good Candidate for a Dental Bridge?
Dental bridges are a suitable dental restoration for many people, but they are especially suitable in the following circumstances:
You want to avoid dentures. Sometimes, a partial denture can be used to replace a few missing teeth. Dental bridges make it possible for patients to avoid wearing an appliance or worrying about the fit, aesthetics, and logistics of having a denture.
You have insufficient jawbone density. When you aren't a good candidate for dentures or dental implants, it's usually because there is insufficient bone density to support such restorations. Dental bridges can work in these situations which means you need not live with holes in your smile.
You're on a budget. If you are a good candidate for dental implants, this procedure may be cost-prohibitive for some patients. While there are many financing options available to make such repairs possible, dental bridges are a reliable, long-term, cost-effective alternative to implants.
Replace Missing Teeth with a Dental Bridge in Healdsburg
Any patient who is pursuing a dental restoration will first undergo a dental evaluation by their Healdsburg dentist to determine what type of repair will work best for them. Sometimes, a dental bridge is the right answer, sometimes a different repair is the better choice. Ultimately, your dentist will make sure that you have the most effective, long-lasting repair possible so your smile is complete and you feel confident about your appearance and the functionality of your teeth.
Contact
Healdsburg Dental Spa in
Healdsburg, California
to schedule a consultation and learn more about dental bridges and whether you are a good candidate for this dental restoration.