If you've ever wished you could straighten your teeth without braces, Invisalign® could be the right solution for you. This discreet method of aligning smiles is ideal for busy adults and even some teens who want to avoid brackets and wires, and it's available from the experienced dental team at Healdsburg Dental Spa.
How Invisalign® Works
Invisalign® begins with a consultation and exam with your Healdsburg Invisalign® provider to ensure that you are a good candidate for this orthodontic alternative. Once it has been determined that Invisalign® will work for you, expect the following to occur: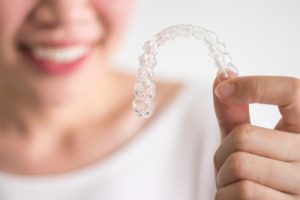 A 3D digital image of your mouth will be created. Your dentist will shift your teeth on the screen and observe your jaw from various angles to solidify a complete treatment plan from the start.
A series of customized clear aligners will be personalized just for your treatment and move teeth and roots simultaneously until your entire smile is in alignment.
Your treatment may include the use of Invisalign® attachments, small composite dots that are temporarily placed on teeth and serve as anchors to help aligners fit more snugly and achieve the desired tooth movements more effectively.
Every Invisalign® treatment plan is designed to move teeth slowly and consistently, a few at a time, until your entire smile is in alignment. Here is how it works:
Expect treatment to last anywhere from 9 to 15 months, with 1 year being the average.
Aligners must be worn 20 to 22 hours a day.
Remove aligners only 4 to 6 times a day for snacks, meals, and cleanings.
Wear each set of trays for about 2 weeks before switching to the next trays.
Expect to wear between 18 and 30 sets of trays over the course of your treatment.
Expect to visit your dentist every 6 weeks or so for a check-up and to collect your next sets of aligners.
Benefits of Invisalign®
No matter what type of orthodontic treatment you choose to undergo, it's a responsibility that must be taken on seriously and with great commitment. Following your Healdsburg Invisalign® provider's careful instructions will help ensure that your treatment is successful and allow you to enjoy the many benefits of being an Invisalign® patient, such as:
Freedom: Wearers of conventional metal braces are married to their brackets and wires until they're removed. Invisalign® aligners are easily removed so you can still eat whatever you want, whenever you want, and get brief breaks from your treatment when you need it.
Discretion: No adult wants to turn into a metal mouth, and Invisalign® saves you from that designation. You can go about your job, social activities, and daily life without any interruption from braces.
Comfort: Invisalign® trays are smooth and comfortable, unlike metal hardware that can jab and snag at your lips, cheeks, and gums. Invisalign® will cause some temporary discomfort as you adjust to the sensation of your shifting teeth, but this pressure is necessary and shows that the important work of aligning your teeth is getting done.
Confidence: After only a few weeks, you will begin to notice that your teeth are getting straighter, which will boost your confidence. Plus, Invisalign® is clear and unnoticeable, so you'll never feel self-conscious about your alignment efforts. Before you know it, your smile will be straight and your confidence will be renewed.
Is Healdsburg Invisalign® Right for You?
Invisalign® can correct nearly every problem that traditional metal braces can fix, including overbites, underbites, crossbites, open bites, overcrowding, and gaps. Once you've completed this treatment – and follow it with the requisite daily wearing of retainers – you will not only have a straight smile but a healthier smile that is easier to keep clean and free of decay and problems.
Contact
Healdsburg Dental Spa in
Healdsburg
to schedule your Invisalign® consultation and find out if you're a good candidate for this innovative treatment.