Tooth-colored fillings are often the first line of defense against tooth decay or a damaged tooth. At Healdsburg Dental Spa, we offer this versatile treatment as a dental restoration or cosmetic upgrade to correct problem teeth and leave your smile looking beautiful.
Benefits of Tooth-Colored Fillings
When you have tooth decay, the problem needs to be corrected as soon as possible to prevent bigger complications from developing. Remember, cavities do not go away on their own, they only get bigger – and no one wants to find themselves in the position of needing root canal therapy or an extraction.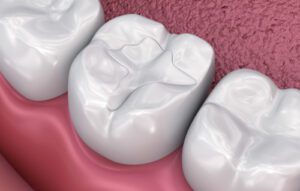 There are many benefits of a tooth-colored filling:
Looks natural: Tooth-colored fillings are blended to match the color of your existing tooth enamel, whether a molar or a more visible tooth is being treated. They are shaded the unique white of your own teeth, which means they blend into your smile and are unnoticeable.
Prevents future problems: A tooth-colored filling does not compromise a tooth's structure and corrects an existing oral health problem while making a tooth more robust. This minimizes the chances of other issues developing later.
Durable: Composite filling material is incredibly strong and bonds directly to a tooth to stabilize the tooth and deliver maximum support. By sealing the tooth so effectively, bacteria and food particles are prevented from invading and the tooth is protected from cracking.
Long-lasting: Whenever you have dental work done, you want to trust that the repair will last for a very long time. With good oral hygiene and regular visits to your dentist, your filling can last for decades.
Problems Fixed by White Fillings
Restoration, repair, and prevention are the name of the game with tooth-colored fillings. Even though fillings are usually associated with cavities, they can be used to address many dental issues, including:
Tooth decay
Chipped tooth
Cracked tooth
Broken tooth
Discolored tooth
Gapped teeth
Deteriorating tooth
Misshapen tooth
While white fillings are intended to address one problem tooth, they offer the benefit of stabilizing surrounding tooth structure, which means your entire smile is healthier because of this one restoration.
Types of Tooth-Colored Fillings
Tooth-colored fillings come in a few different compositions, but they are all designed to give you a white, natural-looking smile. Your dentist may recommend:
Composite filling: Usually for small- or medium-sized cavities, a composite filling preserves as much of the natural tooth as possible and are tinted to look the rest of your tooth enamel.
Porcelain filling: When you have a very large cavity on the chewing surface of the tooth, a stain-resistant, strong, porcelain filling can get the job done.
Inlay or onlay: Also known as a partial crown, an only covers the top of a problem tooth and extends over at least one of the tooth's cusps. An inlay covers the top of the tooth only.
Composite Fillings: Better Than Silver Fillings
Tooth-colored fillings are a safe restoration because they are metal-free. There was a time when silver fillings were the go-to solution to correct tooth decay. However, amalgam fillings pose multiple problems. They are made with trace amounts of toxic mercury, which makes them unhealthy for your mouth and overall well-being. Silver fillings are also unsightly and highly noticeable. Over time, the filling can turn a tooth to a grayish color and leech into the gums, affecting appearance and threatening the composition of the tooth. Plus, silver fillings tend to expand over time, which may fracture a tooth and require additional restorations. Many people who have silver fillings now choose to get a smile makeover that includes the replacement of these dental restorations with tooth-colored fillings.
Get a Tooth-Colored Filling from Your Healdsburg Dentist
Teeth are supposed to be white, so when you have a cavity or need a
minor cosmetic
repair, composite fillings correct the issue while maintaining the natural appearance of your smile. At Healdsburg Dental Spa, we focus on the most conservative but effective treatment for your oral health concern. For many people, that solution is a tooth-colored filling.
Contact us
today to schedule an appointment with Dr. Tam at our
Sonoma County
dental office if you think you have a cavity or need a dental restoration.