If your crooked or fractured teeth are holding you from achieving your dreams, then we have the perfect solution for you – porcelain veneers; the magical answer to virtually all aesthetic dental problems.
Your smile has a direct effect on the people around you. A charming and beautiful makes you look confident, intelligent, and successful. Crooked, stained, and chipped teeth, on the other hand, can ruin your smile and facial appearance. According to a survey conducted by the American Academy of Cosmetic Dentistry (AACD), people who have a flawed smile are often perceived as being unattractive and less intelligent.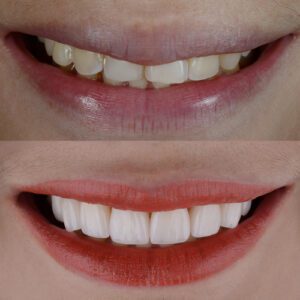 What are Porcelain Veneers?
A veneer is a thin shell of composite resins or porcelain that is used for restoring the natural structure and esthetics of damaged teeth. Although they are lightweight, they possess excellent strength and durability, which is comparable to the natural dental enamel. Therefore, we also use them for reinforcing and restoring the shape, size, and structure of teeth with minor structural damages.
Who Can Benefit from Porcelain Veneers?
At the Healdsburg Dental Spa, we use dental veneers to fix a variety of dental problems:
Teeth that have permanent stains
Excessive teeth gaps
Irregularly shaped or crooked teeth
Chipped or fractured teeth
Too small or very long teeth
For a complete smile makeover
What is the Process of Getting Porcelain Veneers?
Getting a beautiful smile with veneers easy and straightforward. During the initial consultation appointment, Dr. Tam will examine your teeth and evaluate your oral health. She will also discuss with you regarding your aesthetic treatment goals and aspirations. After a thorough clinical examination and review of the x-ray images and study models of your teeth, Dr. Tam will prepare a treatment plan for you that is fully customized according to your dental needs. Here are the steps involved in getting veneers.
Tooth Preparation – dental veneers are bonded to the outer surfaces of the teeth. Therefore, to create room for their attachment, Dr. Tam will remove a thin layer of the tooth enamel. Don't worry; your teeth will not become sensitive after tooth preparation.
Impression Making – in the next step, Dr. Tam will make impressions of your teeth, that will be sent to the dental laboratory for fabricating veneers – along with information regarding the desired shade and color of the prosthesis.
Bonding – in the final appointment, Dr. Tam will first try your new veneers on your prepared teeth without bonding. After confirming proper fit and optimal esthetics – Dr. Tam will bond the veneers to the prepared teeth using adhesive cement.
Caring for the Veneers
Congratulations on your brand-new smile with veneers. We are confident that you will feel a remarkable improvement if your smile and facial aesthetics after getting veneers. However, you must take good care of the veneers if you want your beautiful smile to last for a long time.
Dr. Tam recommends that you do the following to prolong the life of your veneers:
Maintain Oral Hygiene – Oral hygiene maintenance is not only necessary for preventing teeth cavities and bad breath, but it is also equally crucial for having sparkling white teeth. If you don't maintain optimal dental health, your veneers will gradually lose their brightness. To ensure that your veneers retain their esthetics for a long time, strict oral hygiene maintenance is essential.
Avoid Hard and Sticky Foods – your veneers are bonded to your teeth. There are chances – although rare – that your veneers may come off if you eat hard or sticky foods directly with the veneered teeth.
Regular Dental Checkups – to ensure that you retain a healthy and beautiful smile for a lifetime, Dr. Tam recommends that you visit us regularly for checkups – so that we can fix any underlying problems before they can cause permanent damage.
Whatever your cosmetic dental problem, we have a solution for it at Healdsburg Dental Spa in Healdsburg, CA. So, what are you waiting for? Book an appointment with us today and take your first step towards the smile of your dreams.